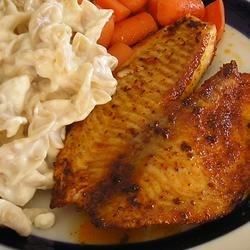 I think Im going to try this for this week...
The author of this recipe claims to have found it in a hobo's pocket while he was asleep by the tracks and they wondered where the hobo got his Tilapia from... I wonder why they were going through a hobo's pockets...
Blackened Tilapia with Secret Hobo Spices
Yield 4 servings
Ingredients
3 tablespoons paprika
1 tablespoon onion powder
1 pinch garlic powder
1 teaspoon ground white pepper
1 teaspoon ground black pepper
1 teaspoon cayenne pepper, or to taste
1 teaspoon dried oregano
1 teaspoon dried thyme
1/2 teaspoon celery seed
1 tablespoon kosher salt, or to taste
4 tilapia fillets
1 lemon, cut into wedges
Steamed white rice
1 tablespoon vegetable oil
Directions
In a small bowl or jar with a lid, make the spice blend. Mix together the paprika, onion powder, garlic powder, white pepper, black pepper, cayenne pepper, oregano, thyme, celery seed and kosher salt.
Coat the fish fillets with the spice mixture, and allow to sit at room temperature for no longer than 30 minutes.
Heat a heavy skillet over high heat. Add oil, and heat until it is almost smoking.
Place the fillets in the pan, and cook for about 3 minutes per side, or until fish is opaque and can be flaked with a fork. Remove from the pan, and place onto white rice.
Pour pan juices over them and squeeze lemon juice all over.
Amount Per Serving Calories: 245 | Total Fat: 6.8g | Cholesterol: 42mg
___________
Review --
made it tonight -- SO good. Update: This is one of my family's FAVORITE fish dish (being tied with
Pan Fried Swai with Lemon Butter Sauce
)
Pin It