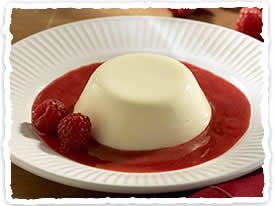 Here's a panna cotta thats pretty good for those that like rich custards. you garnish with a
fruit sauce
... I usually use raspberry for the red/white look.
(yield: 6 5-oz servings)
Ingredients
2 teaspoons unflavored gelatin
2 tablespoons cold water
3 cups heavy cream
2/3 cup sugar
1 1/2 teaspoon vanilla extract*
pinch of salt
3/4 cup sour cream
Directions
Sprinkle the gelatin over the cold water and set aside. This is called blooming and softens the gelatin so it is dissolved better. In 5-10 minutes it will set up into a soft, pliable disc.
In a large sauce pan over medium heat, warm cream, sugar, vanilla, and salt. Stir occasionally just until it starts to steam, 5-7 minutes (do NOT boil). Turn off heat and stir in bloomed gelatin until dissolved and dispersed.
cool the cream mixture in the pan 5 minutes; place sour cream in a large bowl with a pour spout. Slowly add 1 cup of the warm cream into the sour cream; whisk until smooth. Now whisk in the remaining cream.
Place small, ungreased custard cups or ramekins onto a baking sheet -- this helps make handling and storage easier. Pour 2/3 cup panna cotta mixture into each cup. Cover with plastic wrap and refrigerate overnight or 24 hours.
To unmold, run a sharp knife around a chilled panna cotta, then dip cup in boiling water 5 seconds. Run knife around edge again and invert onto a serving plate. To loosen, hold cup tightly against the plate and shake gently.
When it pulls away from the sides, remove the cup (if it wont release repeat step 5). Smooth imperfections with your finger or a sharp knife. Garnish with 1-2 tablespoons strawberry, raspberry or other fruit sauce. Serve cold.
* I use clear vanilla for this recipe but I dont think that it will make too much of a difference other than the white panna cotta will be more of an off white.
Pin It