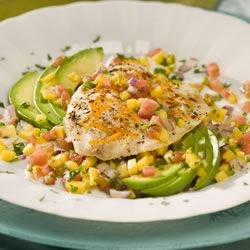 Im going to be cooking this one tomorrow night, I really hope it turns out well. I can already say that I will be cutting down on how much avocado and red onion are used in the chutney as they're really not that favored in my house. And as always jalapeno should be to taste instead of one set measurement. I think I will also "marinate" the fish in the poaching liquids for a bit (20-30min) before cooking to enhance the flavor.
Tilapia with Mango Chutney
Yield 4 servings
Ingredients
4 tilapia fillets
2 tablespoons olive oil
1 1/2 tablespoons grated orange zest
1/4 cup fresh orange juice
salt and pepper to taste
crushed red pepper flakes to taste
Chutney:
1 mango - peeled, seeded and diced
1 small red onion, finely chopped
1 avocado - peeled, pitted and diced
3 roma tomatoes - peeled, seeded and chopped
1 lime, zested and juiced
1 jalapeno pepper, seeded and finely chopped
1 tablespoon minced fresh ginger root
1/4 cup chopped fresh cilantro
1 teaspoon kosher salt
Directions
Preheat the oven to 400 degrees F (200 degrees C.)
In a shallow baking dish, combine the olive oil, orange zest, orange juice, salt, pepper and chili flakes. Rinse the fish fillets and pat them dry. Place them into the baking dish and turn to coat with the seasonings.
Bake for 10 to 12 minutes in the preheated oven, until fish can be flaked with a fork.
While the fish cooks, combine the mango, onion, avocado, tomatoes, lime zest and juice, jalapeno, ginger, cilantro and 1 teaspoon kosher salt in a glass bowl. Stir to blend and set aside at room temperature until fish has finished cooking.
Place fillets on a platter and spoon the chutney over them to serve.
Pin It