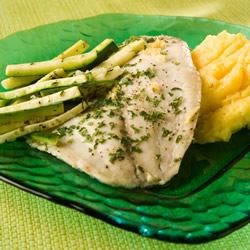 Going with my tilapia challenge I decided to cook this recipe. It seems pretty straight forward.
Lemon Garlic Tilapia
Yield 4 servings
Ingredients
4 tilapia fillets
3 tablespoons fresh lemon juice
1 tablespoon butter, melted
1 clove garlic, finely chopped
1 teaspoon dried parsley flakes
pepper to taste
Directions
Preheat oven to 375 degrees F (190 degrees C). Spray a baking dish with non-stick cooking spray.
Rinse tilapia fillets under cool water, and pat dry with paper towels.
Place fillets in baking dish. Pour lemon juice over fillets, then drizzle butter on top. Sprinkle with garlic, parsley, and pepper.
Bake in preheated oven until the fish is white and flakes when pulled apart with a fork, about 30 minutes.
____________
Review --
I melted my butter with my garlic, which of course made the garlic absorb some of the butter, but I dont feel that it changed the taste any, if anything it probably helped keep my garlic from browning. I also used about 4 stems of fresh parsley coarsely chopped instead of dried and added about 2 grinds of sea salt per filet.
The kids and I really liked it, especially since I served it with a wedge of lemon, but my husband found it too bland. Not sure how I'd tweak it to make it so that we all enjoy it... yet.
Pin It