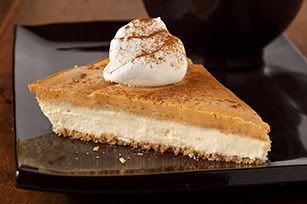 Yet another one of the recipes I learned in my High School Culinary Class/Catering company.
Layered Pumpkin Cheesecake
(Yield: 8 servings)
2 packages (8oz each) cream cheese, softened
1/2 cup sugar
1/2 teaspoon vanilla
2 eggs (large)
1/2 cup canned pumpkin (you can use fresh if you've prepared it for baking already)
1/2 teaspoon ground cinnamon
Dash ground cloves
Dash nutmeg
1 graham cracker crust (9-inch) - recipe follows
Pre-heat oven to 350*f
Mix cream cheese, sugar, and vanilla with electric mixer on medium until well blended. Add eggs; mix until well blended.
Stir pumpkin and spices into 1 cup of the batter; pour remaining plain batter into crust. Top with the pumpkin batter.
Bake at 350* for 35 to 40 minutes, or until center is almost set. Cool. Refrigerate 3 hours or overnight. (note: if done in a springform pan remember to loosen the cheesecake from the sides 15 min into cooling or cheesecake will crack as it cools. You do this by carefully running a knife or thin metal spatula around the edges.)
Graham Cracker Crust
(Yield: 1 9-inch crust)
1/3 cup butter
1/4 cup sugar
1-1/4 cup finely crushed graham crackers (about 18)
Melt butter; stir in sugar. Add crushed crackers; toss to mix well.
Spread evenly into a 9-inch pie pan. Press onto bottom and sides of pan to form a firm, even crust. (if using a springform pan line bottom with parchment paper and you can choose to only put the crust on the bottom of the pan or go up the sides, if you only do the bottom you may have some reserve crumbs or you can have a thicker crust)
Chill for about one hour, or until firm; or bake in a 375*f oven for 4 to 5 minutes or until edge is slightly browned. Cool on wire rack before filling.
Pin It