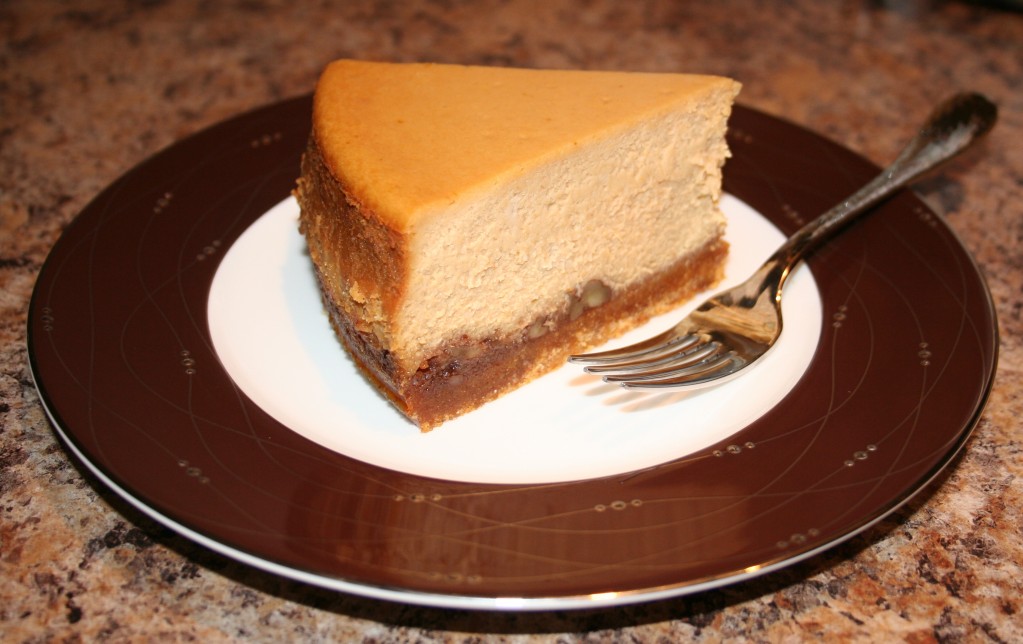 This one is usually a big hit for the holidays in my family.
Pumpkin Pecan Cheesecake
(yield: 12-16 servings)
For crust:
1/2 cup finely crushed graham crackers
1/4 cup finely crushed gingersnaps
2 Tablespoons finely chopped pecans
1 Tablespoon all-purpose flour
1 Tablespoon sugar
2 Tablespoons butter or margarine, melted
For cheesecake:
2 packages (8oz each) cream cheese, softened
1 cup granulated sugar
4 eggs
1 15-oz can pumpkin
1/4 cup milk
1/2 teaspoon ground cinnamon
1/4 teaspoon ground ginger
1/4 teaspoon ground nutmeg
For topping:
1/2 cup whipping cream
Toasted chopped pecans
Preheat oven to 350*
For crust: Line bottom of springform pan with parchment paper. Combine crushed graham crackers, crushed gingersnaps, the 2 Tablespoons finely chopped pecans, flour, powdered sugar, and melted butter or margarine in a medium bowl. Press evenly onto the bottom of a 9-inch springform pan; set aside. (note: I like to bake it at 375* for 4-5 min to set it. and then let it cool)
Beat cream cheese and granulated sugar in a large mixing bowl with an electric mixer on medium speed until fluffy. Add 3 eggs all at once, beating on low speed just until combined.
Place one cup of cream cheese mixture in a medium bowl. Add pumpkin, the 1 remaining egg, milk, cinnamon, ginger, and nutmeg. Beat on low speed just until combined.
Pour pumpkin mixture into the prepared springform pan. Top with cream cheese mixture. With a knife or thin metal spatula, gently swirl through the layers to marble. (note: I cannot stress the "gently" enough, if you accidentally cut through the graham cracker crust it will become soggy during baking.)
Place springform pan in a shallow baking pan. Bake in 350*f oven for 40-45 minutes or until center appears set when shaken.
Cool on wire rack for 15 minutes. Loosen crust from sides of pan by running a knife or thin metal spatula around the edge. Cool 30 minutes more; removes sides of pan. Cool compleatly. Cover; chill at least 4 hours.
For topping: Cool bowl and beaters in fridge for 30min. Before serving beat whipping cream until stiff peaks form. Pipe or spoon into mounds atop the cheesecake. Garnish with toasted chopped pecans.
Pin It