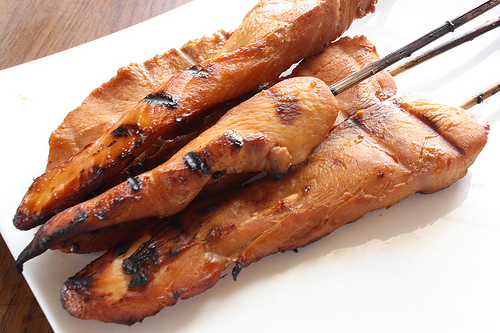 One of the recipes I learned in high school and we served for our catering company. Super simple, and pretty yummy too!
Teriyaki Chicken on a stick
Ingredients:
1/2 tsp garlic powder
1/2 tsp powdered horseradish
1/4 cup soy sauce
2 Tbsp vegetable oil
3/4 c lemon-lime soda (any brand)
1 lb boneless chicken, cut into strips
Directions:
Combine first 5 ingredients in a resealable plastic bag. Add chicken strips; seal bag and turn to coat.
Refridgerate at least 2 hours or overnight.
Soak 8 skewers in hot water for at least 30 minutes.
Remove chicken from bag and discard marinade. Thread chicken on skewers and grill or boil until done; turning skewers once.
Note:
if you wish to use the marinade to baste the chicken, heat marinade to 160*f to reduce the chance of salmonella. (still not recommended)
Pin It