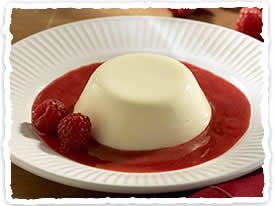 An easy, thin raspberry (or almost any berry) sauce which would be a beautiful sauce for a plate with cheesecake, pudding, or other desserts such as
panna cotta
.
Ingredients:
1 pint raspberries
1/4 cup sugar
2 teaspoons lemon juice
Directions:
Put all ingredients into a saucpan.
Cook and mash with a spoon until the mixture is soft and just begins to boil.
Press mixture through a fine sieve or cheesecloth-lined strainer.
Cool if using with dessert.
Makes about 1 cup.
Pin It