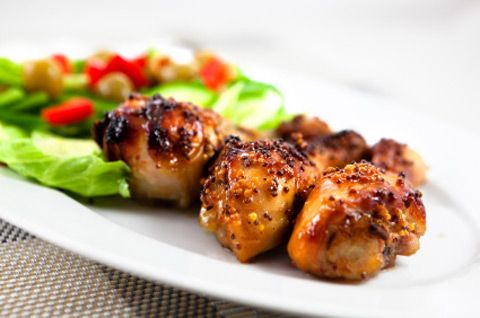 Rich, flavorful honey mustard chicken with carrots and potatoes.
This recipe, which I got from SparkPeople
(a health/fitness site, that might I add WORKS!)
It promises to have succulent chicken with tender delicious vegetables all for only 356.7 calories/serving total for your dinner. With 401 reviews and an average rating of 4.3/5, I'm sure this recipe is not going to disappoint. I am tweaking their recipe slightly from what they suggest due to an overwhelming consensus in the reviews that the veggies needed more time. So don't you worry I am adjusting the recipe to fit their suggestions.
The picture looks so delicious I cant wait until dinner time to try it out!
Honey Mustard Roasted Chicken
1 lb. potatoes, cut into wedges
2 lbs. chicken, rinsed
6 medium carrots, sliced
2 Tablespoons olive oil
1-1/2 Tablespoons honey
3 Tablespoons mustard
1 teaspoon dried rosemary
2 heads garlic, peeled
salt and pepper to taste
Directions
Preheat oven to 425 degrees F.
In a shallow pan, toss potatoes and carrots with oil, salt and pepper.
Nestle peeled garlic cloves amongst the vegetables and scatter the rosemary on top, bake uncovered for 15 minutes.

Remove the pan from the oven and carefully a

rrange the chicken among the vegetables and bake uncovered for an additional 15 minutes.
Meanwhile, stir the mustard and honey together.
Remove from the oven once more and carefully remove chicken and spread the honey-mustard mixture over the chicken.
Stir vegetables in the pan, return coated chicken to the pan, and place pan back into the oven. Cover and bake 10-20 minutes, until chicken is cooked and vegetables are tender.
Makes 4 servings.
If two heads of garlic sounds like a bit much (which for me it does), some people have suggested only using one head or 4 very large cloves of garlic instead.
Pin It